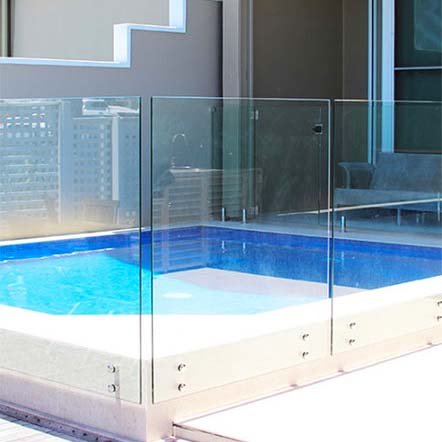 Modernise your summer fun – and make it safer
Frameless pool fencing is a wonderful way to savour the aesthetics of your pool and surrounding garden or patio area. Moreover, frameless pool fencing also means you can keep an eye on children with uninterrupted views.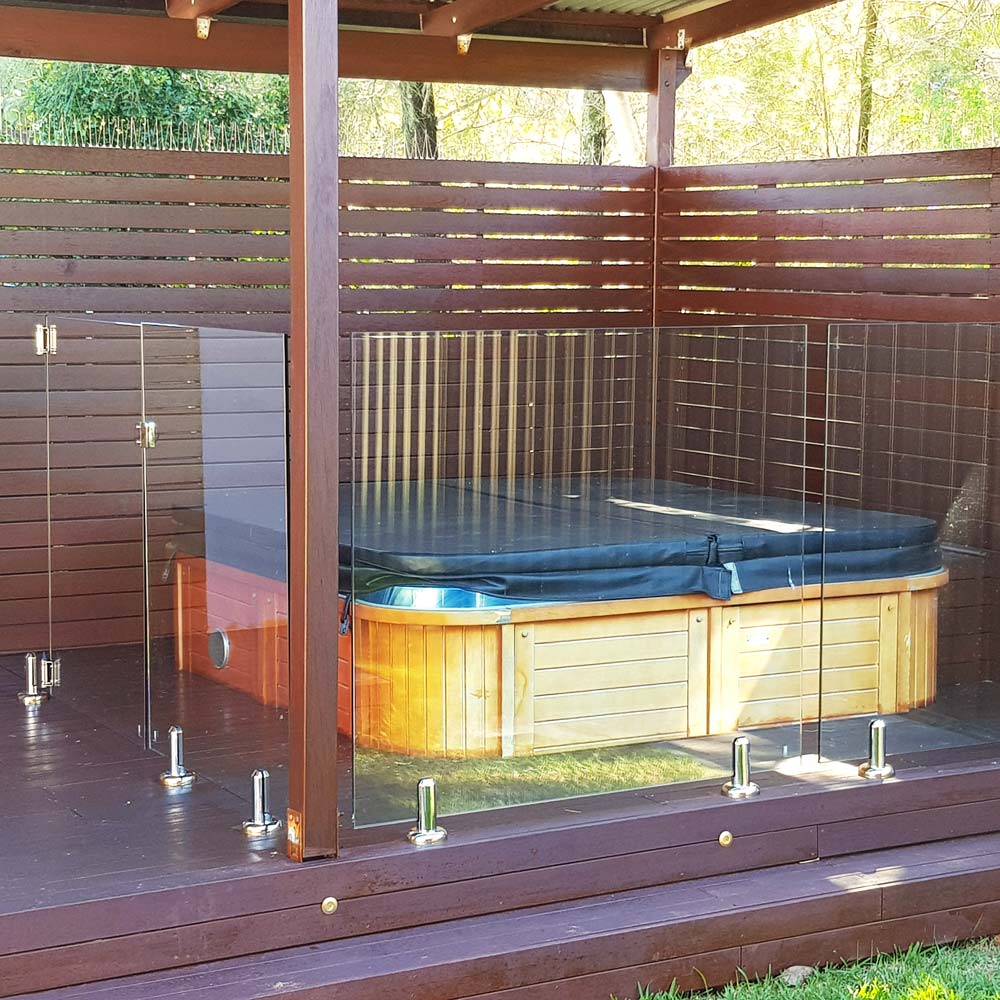 Here are some of the features you'll get from a frameless pool fence by Aspects Glass & Aluminium:
No shadows over your pool. As a result, get sparkling warm water heated from the sun.
Attention to detail. With more than 35 years in the glazier industry, we have both experience and expertise.
Soft close. No more door slamming! Consequently, you'll get a quiet and smooth open and close with a specially designed hinge that doesn't sacrifice security.
Mirror finish metal with anti-corrosion spigots.
To withstand almost any impact, we use tough, high-quality glass for frameless pool fencing. However, if the glass breaks, it will separate into small cube-like pieces with no sharp edges or dangerous shards.
Uninterrupted views – enjoy your outdoor area more. No need to look through bars!
A modern, stylish look increases the value of your home and can revamp an older house.
Our glass pool fencing will give you all the safety and strength of a traditional pool fence with the advantage of unobstructed views. Additionally, all the installations we do meet Australian safety standards.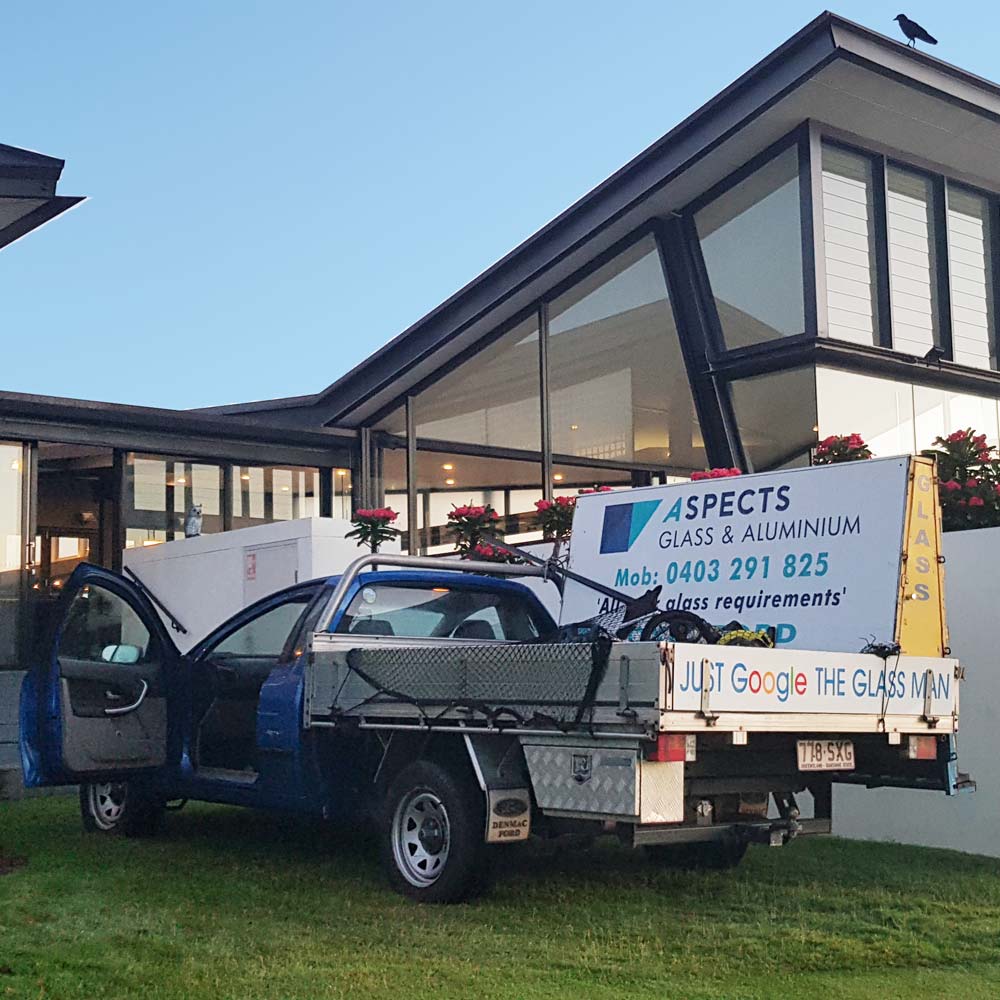 Call Aspects Glass and Aluminium for frameless pool fencing
We can supply and install frameless pool fencing for swimming pools, spas, and fences in any commercial or residential setting on the Gold Coast. Because we're a family-owned and operated local business, you can expect excellent customer service every single time.
For a no-obligation measure and quote, give us a call!
We offer a wide range of glass and aluminium Services for any project.
Our Services
Broken Glass Repairs
Got a sliding door? Or a window or door on hinges? No problem. We can fix them. If your glass has a crack, we can replace that too. Don't wait for it to break; give us a call, and we'll replace it. Any size, any shape glass!
Frameless Shower Screens
Frameless shower screens are a great way to give your home a glamourous makeover without breaking the budget. You'll be surprised at how affordable and straightforward it is to transform one of your best-loved rooms.
Bathroom Mirrors
It's probably the last place you check your look before you leave for work or after you've dressed up, ready to go out! We can install a mirror of the right size to fit the aesthetics and functionality of your bathroom.
Glass Doors
We have doors to make a grand entrance into your home and interior doors for all styles and needs. Doors have a practical purpose: to create privacy, close off a room, and for security, but that doesn't mean they can't look great and make life even easier!
Bi-fold Windows & Doors
Bright, airy, and modern, they're the reasons most people choose bi-fold doors and windows for their home. We make it easy! All our bi-fold doors and bi-fold windows are custom-made and professionally installed to fit your home.
Stacking Sliding Aluminium Doors
If you do a lot of outdoor entertaining, stacking sliding aluminium doors may be perfect for you! We install made-to-measure doors so that we can fit the ideal size doors for your home or commercial premise, no matter how big or small.
Frameless Pool Fencing
Frameless pool fencing is a delightful way to savour the aesthetics of your pool and surrounding garden or patio area. This style of fencing also means you can keep an eye on children with uninterrupted views.
Splashbacks
For many households, the kitchen is the heart and hub of the home. A kitchen needs to be practical, but it should also represent your style. Splashbacks attract the best kind of attention; certainly, a simple way to give your home a makeover.
Aluminium Windows & Doors
Improve the interior and exterior of your home with sleek aluminium windows and doors. Our aluminium sliding doors are anti-dust and anti-draft with an easy to clean track that gives a smooth and reliable operation.