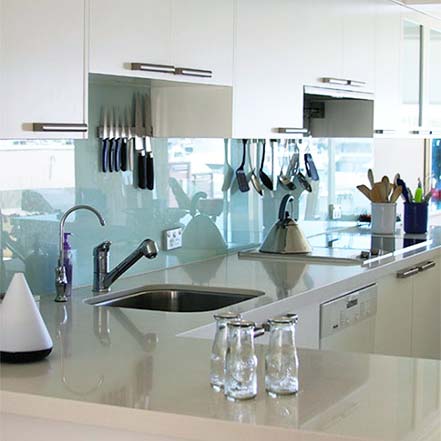 Give your kitchen the "wow factor" with one of our glass splashbacks
For many households, the kitchen is the heart and hub of the home. A kitchen needs to be practical, but it should also represent your style. Splashbacks are precisely where the action takes place in your kitchen – a simple makeover of this feature can make a world of difference to your home.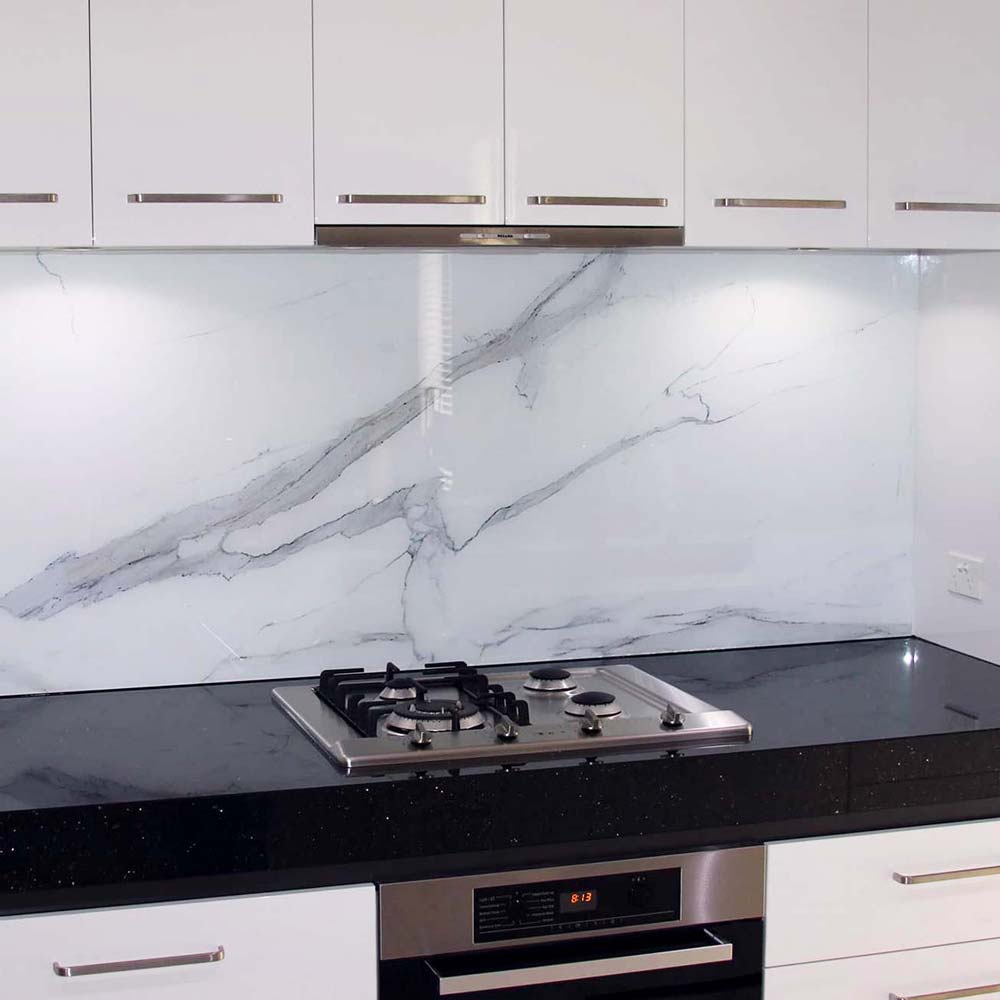 Any finish you want!
We can print any image, pattern, or design in any colour directly onto the back of the glass to give you a unique design. From a realistic marble look to a reproduction of your favourite landscape, we can print it!
Glass splashbacks are:
Heat resistant
Customisable to fit any size kitchen and lifestyle
Easy to clean
Made from toughened shatterproof glass
Mirrored glass available in colour
Practicality and style
A kitchen splashback is not just an attractive addition to your kitchen; it can have some practical benefits too. We can also fit a magnetised knife rack to your splashback so you can keep knives handy, out of reach of small children, and avoid accidents from keeping blades in drawers. You can also include magnets for hanging kitchen implements like ladles, lifters, and slotted spoons.
Even the cleanest of cooks can't prevent oil and food splashes, and don't forget the condensation that doesn't make it into the extraction fan – glass splashbacks will make cleaning all of that mess up much more manageable. A simple wipe will remove most splashes and leave a gleaming glass splashback.
Glass is an ideal material for a splashback; it works with any style or type of benchtop and adds protection to the wall.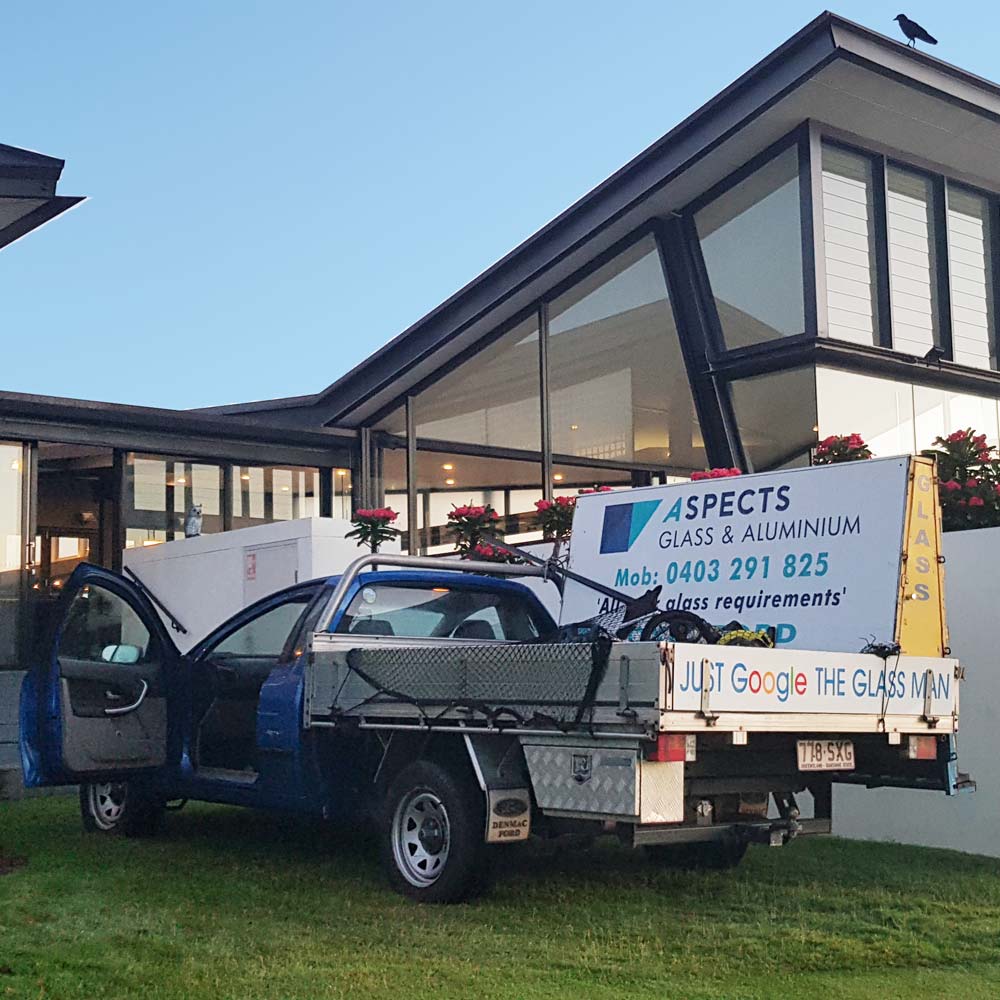 Call Aspects Glass and Aluminium for a beautiful splashback
For all our splashbacks, we use toughened glass that is customised to fit on your wall. A splashback can sit behind a cooktop or mounted behind a bench. We can discuss inspirational choices with glass texture and colour.
We can supply and install glass splashbacks for commercial and domestic kitchens anywhere on the Gold Coast. Contact us for an obligation free discussion or quote. We're an experienced, knowledgeable, and reliable glazier with over 35 years of industry experience.
Our Services
Broken Glass Repairs
Got a sliding door? Or a window or door on hinges? No problem. We can fix them. If your glass has a crack, we can replace that too. Don't wait for it to break; give us a call, and we'll replace it. Any size, any shape glass!
Frameless Shower Screens
Frameless shower screens are a great way to give your home a glamourous makeover without breaking the budget. You'll be surprised at how affordable and straightforward it is to transform one of your best-loved rooms.
Bathroom Mirrors
It's probably the last place you check your look before you leave for work or after you've dressed up, ready to go out! We can install a mirror of the right size to fit the aesthetics and functionality of your bathroom.
Glass Doors
We have doors to make a grand entrance into your home and interior doors for all styles and needs. Doors have a practical purpose: to create privacy, close off a room, and for security, but that doesn't mean they can't look great and make life even easier!
Bi-fold Windows & Doors
Bright, airy, and modern, they're the reasons most people choose bi-fold doors and windows for their home. We make it easy! All our bi-fold doors and bi-fold windows are custom-made and professionally installed to fit your home.
Stacking Sliding Aluminium Doors
If you do a lot of outdoor entertaining, stacking sliding aluminium doors may be perfect for you! We install made-to-measure doors so that we can fit the ideal size doors for your home or commercial premise, no matter how big or small.
Frameless Pool Fencing
Frameless pool fencing is a delightful way to savour the aesthetics of your pool and surrounding garden or patio area. This style of fencing also means you can keep an eye on children with uninterrupted views.
Splashbacks
For many households, the kitchen is the heart and hub of the home. A kitchen needs to be practical, but it should also represent your style. Splashbacks attract the best kind of attention; certainly, a simple way to give your home a makeover.
Aluminium Windows & Doors
Improve the interior and exterior of your home with sleek aluminium windows and doors. Our aluminium sliding doors are anti-dust and anti-draft with an easy to clean track that gives a smooth and reliable operation.